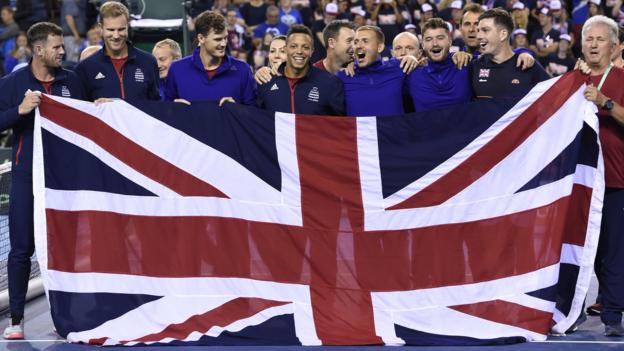 Great Britain and Argentina have been awarded wildcards for next year's revamped Davis Cup.
Great Britain, who won the Davis Cup in 2015, beat Uzbekistan in September to ensure they would be seeded in qualifying for the new event.
But they will now bypass that stage altogether with the wildcard.
Captain Leon Smith's team are now guaranteed a place among the 18 teams which will compete for the title next November.
"Our Davis Cup record over the last few years is something we are all very proud of, and our ranking amongst the top five nations in the world shows our commitment to the competition," said Smith.
"We are looking forward to being amongst the best of the best next year, creating more memories and inspiring our fans to get behind us and the team as we look to win the competition."
The 18 teams next year will be made up of the two wildcards, four semi-finalists from the 2018 Davis Cup – Croatia, France, Spain and USA – and the 12 winners from the 2019 qualifiers, which will be held on 1-2 February.
Australia and Switzerland will replace GB and Argentina in the qualifiers.
Analysis
BBC tennis correspondent Russell Fuller
The investment group Kosmos, which is led by footballer Gerard Pique, is promising to pump more than £90m into the Davis Cup and grassroots tennis and, therefore, needs the biggest stars and TV markets to be involved in November's week-long finals.
Ironically, the Lawn Tennis Association voted against the Davis Cup reforms, but GB still receives a wildcard along with Argentina.
Both teams are in the top five of the rankings, and the two most recent winners of the competition not already exempt.
Now GB and Argentina do not have to play in February's preliminary round, Switzerland and Australia will be seeded for those ties, which may increase the chances of Roger Federer, Stan Wawrinka and Nick Kyrgios appearing in November.